Eugenie Bouchard's last-minute decision to join Canada's Fed Cup World Group Play-Offs against Romania came after her three consecutive losses at earlier tournaments, but things got even more complicated over the weekend, as not only did Bouchard make another handshake controversy, the disrespect, which she explains as "It's nothing personal. I just don't believe in wishing my opponent good luck before the match", further inspired the Romanian team to sweep the floor with the Top 10 star. What exactly happened?
At the pre-Fed Cup press conference, Bouchard refused to shake the hand of Alexandra Dulgheru, which the Romanian effortlessly laughed off. Let's see what happened:
Fed Cup tradition? Genie Bouchard refused (again) to shake opponent's hand at the draw ceremony. (via @deggytown) pic.twitter.com/lGHhKdC4SH

— SI Tennis (@SI_Tennis) April 18, 2015
Dulgheru then got the sweet revenge on the court, beating Bouchard 6-4 6-4 and making fun of the no-handshake with her team. Again, a GIF tells the whole story:
Dulgheru mocking Bouchard with a fake handshake to her team in an endless loop. pic.twitter.com/KKe7iRRYnP — Joe (@ProdigyRep) April 18, 2015
Bouchard's bad luck didn't stop there. The Canadian lost her second singles rubber as well, falling to world No.104 Andreea Mitu, 4-6 6-4 6-1, which is Mitu's first ever non-retirement Top 50 win!
Romanian world No.3 Simona Halep also hasn't stay reserved about Bouchard's handshake theory:
I don't want to comment on the gesture, it depends on the person's education. I would never do that but it's maybe just how she was raised and we have to accept this attitude.
I think we should bring Barbora Strycova to the rescue! She's a certified handshake teacher 😉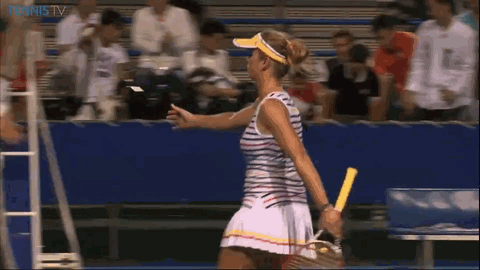 (GIFs via Sports Illustrated and Tennis.com)